Oklahoma State Horseshoeing School is licensed and approved by the OBPVS to offer the training hours in Clock or Contact Hours, where 1 (one) resident training hour equals 50 (fifty) minutes.
PROGRAM: Basic Horseshoeing (Six Week Course)
TRAINING HOURS: 300 Clock Hours
BASIC HORSESHOEING & BLACKSMITHING COURSE - (300 hours)
Lectures, Reading Assignments and Demonstrations (30 Hours)
The Hoof
Trimming & Shoeing
Anatomy
Bones & Joints
Tendons & Ligaments
How to start and run your own business
How to get and keep customers.
Horseshoeing & Blacksmithing (160 hours)
Shoeing &/or Trimming Every day.
Training Horses to Stand and be Shod.
Hot Shoeing
Cold Shoeing
Shoeing With Handmade Shoes for Normal Horses.
Basic Corrective Shoeing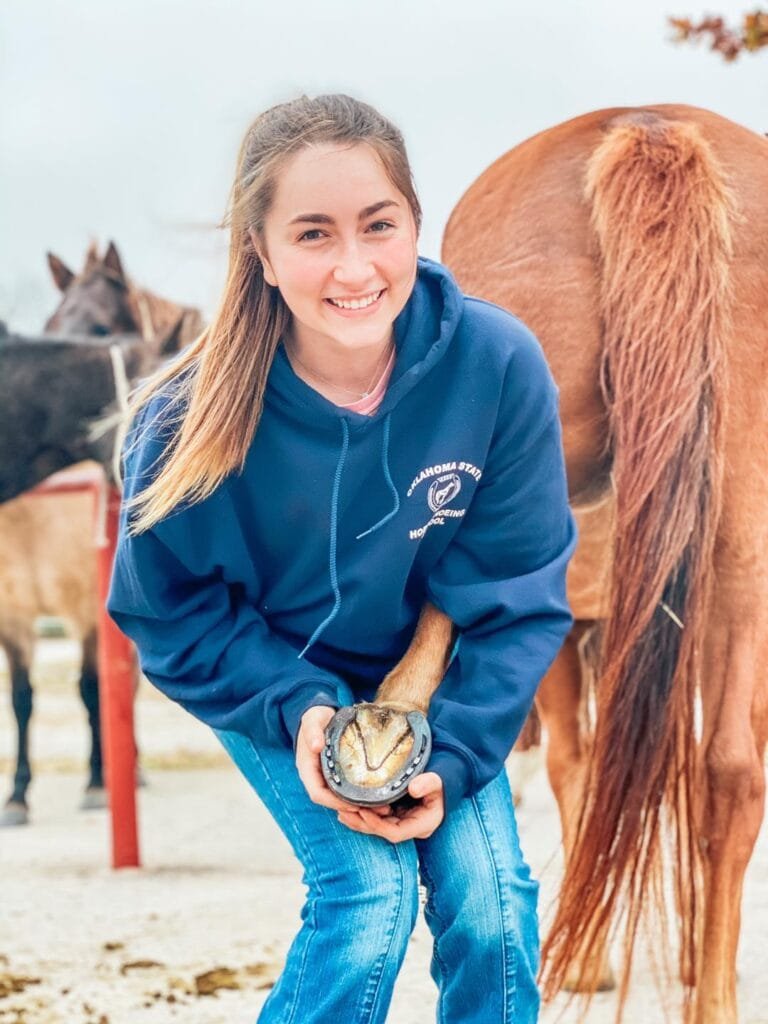 Creating handmade plain and corrective shoes from bar stock
Instruction in making specialty tools.
Horseshoeing in the Field (48 hours)
Shoeing in the field using the portable shoeing rig.
Upon enrollment, each applicant will be required to pay a $150.00 enrollment fee. This fee is non-refundable and does not go towards the cost of tuition.
The Cost of Tuition for the six-week course is $7700.00. This amount includes:
Instruction of Curriculum
Supplies
Tools (See tool list below)
Textbook
Rasp Handle (2)
Hoof Knife
Center Punch
Clinch Cutter
Rounding Hammer
Hoof Nipper
Nail Nipper
Driving Hammer
Nail Puller
Shoe Puller
ClincherClincher
Shoeing Box
Apron
Anvil
Rasp (2)
ADMISSION REQUIREMENTS, PREREQUISITES, AND POLICY FOR PREVIOUS TRAINING
Any student, who is physically capable, of normal intelligence, and at least 15 years old may enroll in our program. If you are under the jurisdiction of a secondary school, we must receive written permission from that school's principal for you to attend during the time that school is in session. VA Students must provide all prior credit for your file, but no credit will be allowed for any previous training or education.
To enroll, complete the enrollment agreement (which can be found online at www.oklahomastatehorseshoeingschool.com) and return with the enrollment fee of $150.00. A confirmation letter and receipt will be sent to you by email. Tuition is due before the student begins class the first day.
OSHS holds six class sessions annually, with up to 24 students per class. Once classes begin, they are closed for enrollment until the next session begins. Should an emergency or other situation arise that prevents a student from completing the six-week session, arrangements can be made to withdraw and begin with another class according to availability.
Classes begin on the First Monday of every odd month.
7:30am-9:00am: Classroom
9:00am-3:00pm: Shoeing and/or Trimming on horses in the shoeing classroom(barn)
3:00pm-5:00pm: Forge Work – (Lunch from 12:00 to 12:30)
The school does not take any school holidays except Thanksgiving Day. The hours for that day are made up during our November class sessions.